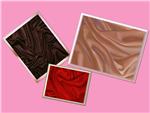 I am glad to provide the opportunity to realize their creative "silk" projects with the help of these wonderful pictures of silk.

In a set of 40 high-quality photos, each the size of 2500 x 3500. An example of the application you can find by visiting the website "sculpture Silk" (typing in Google)

Buy and creativity you!

Good luck!
No feedback yet