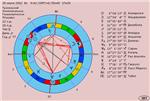 In this product distribution package includes ZET8 and detailed tutorial on the basics of astrology and the art of working with the program.

ZET8 - a universal astrological software, a powerful tool for professional astrologer, easy to learn and easy to use for the novice astrologer, a lover of astrology and astronomy.

Feature Astroprocessor ZET - this new interactive graphic technology, flexible function settings for a variety of user requirements, the highest accuracy of astronomical calculations, powerful unit automatic interpretation of a horoscope with a huge, conveniently organized library of astrological texts, constantly updated by the user community ZET8.

For software distributions applied a detailed guide on how to use. It is written based on the novice astrologer who wants to quickly and easily master the basic concepts of astrology and proceed to the practical application of the program in their own astrological ZET8 salon. After reading the manual, you can:

- Build a personal horoscope and horoscope compatibility of partners.

- Get an individual astrological forecast for 3 days in a graph with interactive commentary.

- Get a high-quality printout of the astrological chart a laser or inkjet printer.

- To study the basics of astrology astronomical via Astro planetarium "Space" and "celestial sphere".

- Consult the Oracle Multimedia Book of Changes.


Format management: file .doc (for MS Word)

This product is presented in a .rar archive file

The volume of 11 MB
No feedback yet