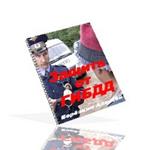 "Protection against traffic police" - This is a digital product - Hit! The Russian Internet.


Nothing Extra!


You get only the most necessary and operational information in an easy and accessible way, which will bring you guaranteed results!


Look ... What you will learn by downloading the e-book "Protection From the traffic police"


Stop you ...


You stop you ...


WHAT IF you have not noticed ... INSPECTORS


... For unfastened seat


... The dirty license plates


... For speeding


... FOR THAT DAY I was driving on the highway with the included headlights


... FOR WHAT "blinked" lights, warning about GIBDDshniki


... FOR WHAT NOT pedestrians


... FOR TECHNICAL INSPECTION unclimbed


... NOT BURNING FOR FARO


... Their lack of insurance


... YOU WANT TO CHECK AVAILABILITY first aid kits and fire extinguishers


... FOR roundabouts on a yellow or red light


... For crossing the solid line and exit at the oncoming traffic


... For travel F / A MOVE


IF YOU ARE PROTOCOL in a strange city ...


YOUR CAR inspect ...


Keep you ...


You are accused of booze DRIVING ...


Your car is delayed ...


You control a stolen car ...


Protection schemes to administrative liability


LOST (STOLEN) Driving permits


LOST (STOLEN) NUMBERS


LOST (STOLEN) Certificate of registration (or TCP)


PS (to minimize the payment of fines)


Never forget that the money invested in the new knowledge is not a waste but an investment in yourself and your future.





No feedback yet