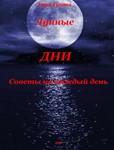 The lunar calendar takes the main place in the work on oneself.

On a lunar day, a latent negative emotion appears in us, which is very bad for people who are mentally unstable. On the lunar day, the peak of emotionality falls, and as a result of excessive energy waste, emotional disruptions can occur.

On a lunar day is good correction of diseases, dreams on a lunar day - warning and carrying positive information
Lunar calendar allows you to feel the general rhythms, gives a sense of security, the disclosure of the soul. It allows you to orient yourself in life without struggle, to live peacefully. When a person enters and lives in his rhythms, everything in life is decided as if by itself, there is no need to spend in vain the strength to fight the course of life.

Learning to follow the lunar calendar in your everyday behavior, you can rid the body of unnecessary expenditure of energy, make natural rhythms of your assistants and gradually eliminate from your life the causes of many diseases.

The book gives advice on each lunar day:
When and what is better to buy,
How to make a meeting unforgettable, and a business meeting - successful,
What and when to treat and when to be sheared, to be healthy and happy,
What jewelry to wear.

And also signs for each lunar day and mantra-affirmations to attract health, happiness, success and love.

No feedback yet