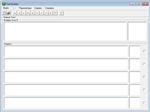 Program «Test Builder» is designed to create and display various test patterns. With it you can create these types of tests: one correct answer, a lot of correct answers, the answer is input from the keyboard, each answer is worth points, the answer depends on the key. It can be used for testing in order to determine the knowledge or the different characteristics of people, as well as for entertainment.
Requirements:

Microsoft Windows Me / 2000/2003 / XP.

Interface: Russian, Ukrainian.
No feedback yet