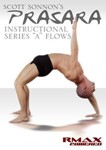 Those who do not believe that yoga - a component of the path of the Warrior, the film is dedicated to ...

In fact, even the most inveterate skeptics after watching this video tutorial will be clear - if there is an ideal solution for production skills to fight on the ground, it is a complex of Prasar Yoga, "Tumbleweeds."

The author of this video, Scott Sonnon, not without reason considered to be one of the most authoritative experts in MMA - and he finds this complex one of the best to prepare the body to fight lying. The slow transition from one position to another is very reminiscent of the well-known wrestling techniques or training equipment. It is worth noting that in addition to the development of skills of free movement on the ground, this complex will allow you to work for training every muscle of the back and body, all the joints kneaded and give the body a feeling of freedom. Komlpeks Prasar Yoga, "Tumbleweeds", an excellent training method when the body is preparing to fight.
Title: Prasar Yoga: a set of "Tumbleweed"
Author: Scott Sonnon
Format: DVDRip
Size: 218 mb.
No feedback yet