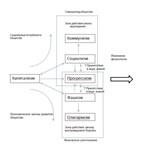 Refinement and development of the ideas of Karl Marx, expressed them in the capital.
In this paper, the basic trends in the development of society.
Explain the relationship processes, analyzed historical experience.
A matrix formation takes into account the realities of today´s processes.
It predicts and explains the next stages of development of society.
No feedback yet