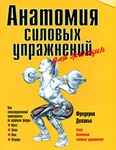 Is a renowned Russian edition offers the reader the opportunity to join the most recent advances in the field of improving the functional qualities of the body and body aesthetics.
The book is a versatile tool for lovers of power training, and experienced practitioners. A special, exclusive character edition give detailed and neat illustrations, clear explanations that contribute to the fullest perception and reproduction of the author´s system of exercises.
The practical use of this handbook will achieve strong skills correctly perform basic types of strength training will give a stable aesthetic result, which will not disappear because of a temporary cessation of practice mode.
Anatomy of strength training for women pdf download
No feedback yet