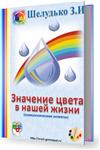 My new book, "The value of color in our lives"

dedicated to understanding the basics of psychology in real life.


In fact, color is not just a psychological aspect:

• Color treats

• recovers

• heals


As you know I've always worked with pregnant women, and I pay attention to the color of clothing that women come. When I graduated from college and started to work, the color of their clothes I did not care, but the analysis of complicated pregnancy some women, then their obstructed labor, I began to understand that the inner world is reflected in the colors of clothing.


It would seem that long-awaited pregnancy (according to women), their loquacity about the come happy time .... and black clothes. What do you think, what to believe?
This book is made in 3D format with page turning effect.

Fighting after payment, you will receive a link to download this book.

All instructions for running and viewing a book you will find in the downloaded archive.
No feedback yet