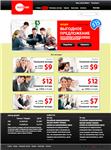 Each of our template is unique, you will not find them in the public domain on the Internet, as our studio ProStep is a developer of Web templates. After payment you will receive a link for downloading the file. In which there is a picture in high resolution jpg and PSD file (Photoshop) file in high resolution and with a drawing of all elements of the Web template.
If you do not want to impose themselves bought the pattern - after payment, please contact us and we will impose your purchased template for free, we make up, we cross-browser layout on html 5.0 standards.
It is also possible to install this template on any cms system and completion of drawing or template to suit your requirements.
No feedback yet