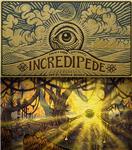 Incredipede - an unusual puzzle game where you build limbs unusual creature called Quozzle, to help him save his sister from enemy captivity!

The essence of the game is that you have a creature - Quozzle, looks like a ball with one eye, but the ball can be made to move, "grow" his limbs. To limbs began to move, but still in the right direction, they need to properly attach the muscles. Transforming creature this way, it can make not only walk, but also to crawl, climb, jump and soar.

The game has 60 levels across three worlds, and it´s worth noting, despite the fact that the team is not large, they were able to wrap up an interesting idea in an attractive schedule, making a quality product. Also in the game has a level editor that can be shared with other gamers and create for their Challenge.

This beautifully decorated game will offer you to design of the muscles and bones of something that can get to the end of the map, while collecting as many bonuses.
About 60 levels.
Three hand-drawn world.
-------------------------------------------------- -----------
Gift it is impossible to give and add to itself in an inventory, only activating on the account.
game (Gift / link) activation is added directly to the library, in the inventory can not be put off ...
Activation link Humble Bundle
If not installed Steam client, download and install it -
http://steampowered.com/download/SteamInstall.msi
• Log in to your Steam account, or register a new one if you have not already have it.
• obtained after the payment link, you must insert into your Internet browser, then go for it.
• Press the "Steam" (It is under the name of the game!).
• Go to the link: "connect to Steam!" and log in to Steam.
(If you have a link that says: "redeemed to this account", then you´re already logged into Steam and the game was added to your profile!)
• The game will be activated on your account Steam, and also appear in the list of games and you can download it.
• Start the game you will be able to immediately after installation.
•••••••••••••••••••••••••••••••••••••••••••••••••••
A full list of all products:
•••••••••••••••••••••••••••••••••••••••••••••••••••
http://marikon.plati.ru/asp/list_seller.asp?id_s=295444
•••••••••••••••••••••••••••••••••••••••••••••••••••
No feedback yet