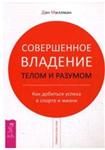 Dan Millman - The mastery of body and mind. How to succeed in sport and life.

Dan Millman - professional athlete, world champion in athletics. He traveled the world, learning martial arts, yoga and other integrative discipline. His books have been translated into more than twenty languages, and inspired millions of readers around the world to create a full, balanced life.

To be a winner in life, always be on our toes and reach the objectives, the author proposes to apply to the methods of education in the sport of champions.

Using described in the book of relaxation exercises, breathing and concentration in every situation, you will be able to release the latent energy in you and can easily overcome the obstacles on the path to personal growth and spiritual discovery. You re-awaken the natural athlete within you - the master and the master of body and mind.


No feedback yet