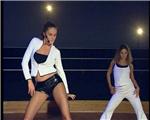 Strip plastic - is the direction of club dance designed to demonstrate the beauty, femininity and sexuality girl. Plastic and seductive, "cat" movements attract the eye like a magnet! Stripplastika generates confidence in the beauty of the body, increases self-esteem!

When you see a girl in the club, which is beautiful and sexy dancing, you know - there has not been without a strip of plastic!


What gives lessons stripplastikoy?


Increased confidence. Many women working in the office for a few years, the clips appear in the body, which gradually turn into psychological problems, such as lack of confidence, the rejection of his own body, the overall stiffness and various complexes. In the course of a strip of plastic, razuchivaya movement, gradually you get rid of these terminals and complexes, complicating life!


In addition, you will lose weight and introduce muscle tone. Classes calories from muffins and chocolates eaten in the office, fading, tightened abdominal muscles, buttocks, chest, arms, relief appears. The body becomes flexible and malleable.


Classes on stripplastike usually transform girls: your everyday movements unconsciously become more relaxed, sexy, aligned posture, gait changes. Plastic and grace come into your life, and what would you do: walking, dancing, sitting, standing, had dinner, you will make it beautiful! Classes unleash any girl, and give you an unforgettable sense of pride in themselves, feminine, attractive and desirable!



No feedback yet