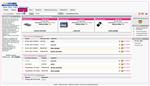 Website for online auction PhpProBid v 6.x. Made in a light-gray tones, with the addition of bright colors menu Auction. Powered by auction versions 6.07 and 6.10. In earlier versions are not checked.

It is known that poor quality Russification of the auction results to display incorrectly auction page in the browser (the output of the table border body site) bonuses in the archive files are adapted Russification.
As a bonus to a file folder is a folder of Russification mails to properly display the incoming and outgoing mail auction in Russian!
No feedback yet