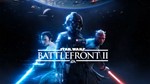 STAR WARS ™ Battlefront ™ II is a first-person shooter whose action takes place in the Star Wars universe. Unlike the first part, in Battlefront 2 there is a story campaign telling the story of a girl named Eden Versio, who is the commander of a special Imperial detachment "Inferno". The plot campaign suggests looking at the familiar universe from a completely different angle, telling the story from the perspective of the Empire, not the rebels.


Before buying, be sure to review the product description !!

WE ARE ALWAYS ON CONNECTION AND ALWAYS OPERATIVELY DECIDE ALL QUESTIONS ON OUR PRODUCT! ONLY WHEN NOT SPLIT!)

• "LIFETIME GUARANTEE" for the purchased goods (in case of problems, please contact the PERSONAL CORRESPONDENCE)
••••••••••••••••••••••••••••••••••••••••••••••••••••••••• •••••••••••••••••••••
What is a "LIFETIME WARRANTY"? - If you have problems with access to your account, you will receive a replacement, regardless of the elapsed time since the purchase!
••••••••••••••••••••••••••••••••••••••••••••••••••••••••• •••••••••••••••••••••

Buying this product, you immediately receive a licensed account STAR WARS Battlefront II (Origin).
After the purchase, the data from the account will automatically come to your email address.
On many accounts there are other games, such games are like bonuses.

Account information:
+ Login and Password
- We do not provide data from the mail !!!!!!!!!!!
- Data can not be changed!
We do not have a refund, only a replacement in the case of a non-valid account!
Accounts come across both with Russian and English </ attention>

When buying, you agree to the rules:
Who do not like the rules, please do not buy this product!
• Lifetime warranty for the replacement of not a work item, not only in the first 30 minutes after purchase
• Account Not returned (Replace only if not valid).
• No access to mail
• The change of all data is carried out by the buyer (if possible).

14.12.2017 16:36:50
Продали нерабочий аккаунт + продавец не отвечает
13.12.2017 2:30:49
спс качаю продавец супер!!!
13.12.2017 0:35:49
Все хорошо, все пришло
10.12.2017 12:15:21
владелец вернул аккаунт, можно замену?
Замену выдали, все ок!
07.12.2017 23:38:03
Выдали замену. Порядок
07.12.2017 22:47:45
Теперь вопросов нет, все гуд
06.12.2017 12:06:40
Thanks, all right.
03.12.2017 18:02:51
Naisuu
03.12.2017 14:16:36
GOOD SELLER