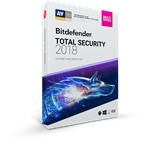 After purchase, you instantly get the key to your mail.
BitDefender - BitDefender SRL Romanian company, to develop and produce anti-virus software, firewalls and anti-spam solutions for BitDefender brand. These programs are used in more than 100 countries around the world, and are particularly popular in Germany and France. According to the official website, there are about 500 million individual and corporate members.
After payment you will immediately receive a unique key Bitdefender Total Security 2017, which can be used in your personal account on the site
http://www.bitdefender.com/
.
In order to activate Bitdefender:
Enter
https://central.bitdefender.com/
Register a new account and/or login.
Click on ´My Subscription´ tab on the left.
Then, click on ´Activation Code´ button in the top right and enter your code.
You will be able to see your subscription in ´My Subscriptions´ tab.
*Sometimes an activation may pop up an error that the subscription already exists. In this case, wait until your previous subscription ends and activate the antivirus with the purchased key.
18.09.2018 22:34:57
Все работает, активировал ключ в профиле и тотал на 5 устройство на 90 активированно.
15.09.2018 18:48:05
Все хорошо, спасибо
02.09.2018 20:00:13
Как всегда всё отлично,беру 2 раз

17.08.2018 10:20:42
Все Ок!
28.07.2018 20:49:44
Ключ пришёл, активировался. Собсна, что ещё надо?
16.06.2018 9:18:05
Без обмана, всё четко. Оплатил получил ключ - активировал всё отлично. Спасибо
13.06.2018 6:51:59
супер, спасибо!
02.06.2018 21:24:24
Всё отлично работает, Спасибо